An innovation in newborn comfort
Newbie Love takes togetherness to a whole new level.
The powdery softness of 100% GOTS certified organic cotton jersey now comes with IP protected padded head support and optional premium mesh panels.
It's a sensory experience like no other.
100% GOTS certified organic cotton
Fair Trade Approved Manufacturer
Australian Physiotherapy Association endorsed
Newbie Love smooth cotton
Your delicate newborn can now be snuggled close to you in hands-free comfort. Newbie Love gives you confidence your newborn is protected and supported so you can get on with the things you enjoy.
Newbie Love premium mesh
Designed with all the same features and benefits of Newbie Love, Newbie Love premium mesh with organic cotton mesh panels for added ventilation and breathability.
Newbie Love Premium Smooth Wrap Basic Carry
OH. MY. GOODNESS. I like stretchy wraps for little babies, I'm not going to lie. Very snuggly, easy to learn front wrap cross carry, very comfortable... but UGH. HOT. And then, Fertile Mind sent me something clever. It's called Newbie and it incorporates MESH over baby, with a center solid for easy alignment, a gather at the base for simple secure positioning, AND a shaped and gently padded top rail to support newborn necks. It's actually fricking awesome. 😂


"Hugh felt much more protected and I felt more secure."
Research shows a newborn's brain developes best when stimulated by our voice, smell, movement and skin-to-skin contact. Newbie Love doesn't just protect our babies, it offers profound benefits for overall development.
We call this BQ.
Newbie Love Premium Mesh Wrap Front Cross Carry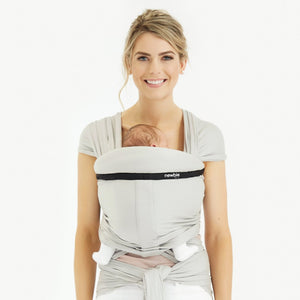 Newbie Love smooth grey & FREE BABY EINSTEIN: Mozart DVD (rrp $22.95)
Sale price Price $ 97.00AUD Regular price $ 119.95AUD