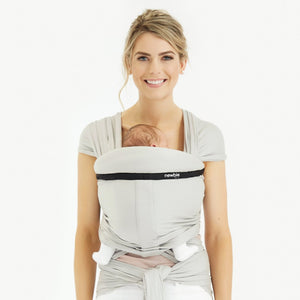 Newbie Love smooth grey & FREE BABY EINSTEIN: Mozart DVD (rrp $22.95)
Sale price Price $ 97.00AUD Regular price $ 119.95AUD
An innovation in newborn comfort.
Newbie Love takes togetherness to a whole new level. 
Protective padded neck pillow - for a comfortable and safe newbie
Simple tying method - in minutes enjoy a hands-free newbie
Softest breathable 100% GOTS certified organic cotton - for a snuggly and content newbie
Healthy hip position - for a developing newbie
From birth 7lbs (3.2kg) to 31lbs (14kg)
Cold machine with mild detergent
Dry and store away from direct sunlight
Tumble dry low heat
Do not iron, bleach or dry clean
Australian designed and owned
Made in India. Certified Fair Trade manufacturer.
SPECIAL OFFER:
Receive a FREE BABY EINSTEIN: Mozart DVD (rrp $22.95)